Dr. Angèla Aucoin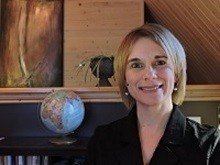 Socio-cultural inclusion, Professional Education
Dr. Angèla Aucoin (Professor, University of Moncton, New Brunswick). Her doctoral studies reviewed the history, and the lived legal framework of school inclusion in the Acadian area of Nova Scotia. In 2011 she collaborated with Dr. Gordon Porter to prepare a report on school inclusion in New Brunswick. She is member of the International Laboratory on School Inclusion (LISIS).
Angèla Aucoin is an Associate Professor in the Department of K-6 teaching and psychopedagogy at the Faculty of Education, Université de Moncton. After teaching in the Northwest Territories and in Nova Scotia, a few years spent as a resource teacher, she obtained a Ph.D. in Education in December of 2009. Her thesis pertained to the history and legal framework of inclusive education, and the Acadian experience with it in Nova Scotia.
Research Interests
Differentiated pedagogy
Inclusive education
Human rights education.
Angèla Aucoin est Professeure Adjointe au Département d'enseignement au primaire et de psychopédagogie à la Faculté des sciences de l'éducation de l'Université de Moncton. Après diverses expériences d'enseignement aux Territoires du Nord-Ouest et en Nouvelle-Écosse, dont quelques années à titre d'enseignante ressource, elle entreprend des études doctorales en éducation qu'elle complétait avec succès en décembre 2009 par la soutenance d'une thèse portant l'historique, le cadre légal et le vécu de l'inclusion scolaire chez les Acadiens et les Acadiennes de la Nouvelle-Écosse. Ses activités d'enseignement et de recherche tournent autour de plusieurs centres d'intérêt, dont la pédagogie différenciée, l'inclusion scolaire et l'éducation aux droits humains.
Intérêts de recherche
Pédagogie différenciée
Éducation inclusive
Éducation aux droits de l'homme.