Dr. Jamie Metsala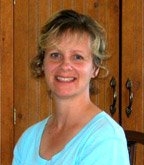 Professional Education
Dr. Jamie Metsala (Professor, Mount St. Vincent University, Nova Scotia) is the Gail and Stephen Jarislowsky Chair in Learning Disabilities (appointed July 1, 2011). She has begun collaboration with representatives from the Nova Scotia Department of Education concerning both children with learning disabilities and early reading acquisition.
Dr. Jamie Metsala is currently an Associate Professor at The University of Western Ontario Faculty of Education. She received her Ph.D. from the Centre for Applied Cognitive Science at the University of Toronto/OISE in 1993. Jamie was previously an Associate Professor in Educational Psychology at the University of Maryland, College Park, where she also served as the Associate Director of the National Reading Research Center. As a clinical psychologist and former Director of Research and Psychology at Integra Children's Mental Health Centre in Toronto, Jamie has worked with children, families, and clinicians around learning and mental health concerns of children and youth with learning disabilities. In 2011 Jamie will rejoin the School Psychology faculty at Mount Saint Vincent University, Halifax.
Research Interests
Reading acquisition and reading disabilities
Development of speech perception and phonological awareness
Social cognition and psychological adjustment of children with nonverbal learning disabilities.