Resources

Exceptionality Education International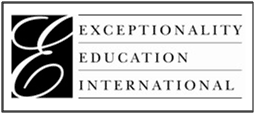 Exceptionality Education International provides a forum for research and dialogue on topics relevant to the education of people with exceptionalities and how barriers to the full participation of all people in education can be reduced and removed. People with exceptionalities are those from groups who have been traditionally marginalized in education as the result of ability, culture, ethnicity, gender, identity, language, religion, sexual orientation, and socio-economic status. Click on the logo at left to visit the site.
List of current editors of the journal
Editors:
Jacqueline Specht
Western University, London, ON, Canada
Gabrielle Young
Memorial University of Newfoundland
Associate Editors:
Jenn de Lugt
University of Regina
Sharon Penney
Memorial University of Newfoundland
Investigating Inclusive Education in Pembina Hills Regional Division No. 7 (Alberta, Canada)
Prepared by Dr. Angie Irvine
The following six research briefs stem from two SSHRC funded projects investigating inclusive education in Pembina Hills Regional Division No. 7 in Alberta, Canada. The research briefs synthesize the findings of the projects and highlight results that are relative to inclusion. They focus on teachers, administrators, community, parents, and students. 
Please click on the title of the research brief you wish to view to access the PDF document.