Dr. Gabrielle Young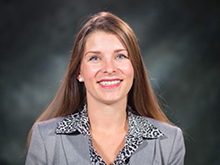 Instructional Techniques
Dr. Gabrielle Young (Associate Professor, Memorial University of Newfoundland) began her position in July 2011 and has recently completed her Ph.D. She has already connected with the community, the school board, and the Department of Education in Newfoundland.
Gabrielle Young is an Associate Professor at Memorial University of Newfoundland, where she teaches courses such as the Nature and Characteristics of Learning Disabilities and Inclusive Practices for Students with Learning Disabilities.
Gabrielle is an Ontario Certified Teacher who has taught internationally and within Canada. While completing her doctoral studies at the University of Western Ontario, Gabrielle taught the pre-service Educational Psychology and Special Education course. She was also actively involved with the Learning Disabilities Association - London Region, where she was Vice-President of the Board. As a graduate student, Gabrielle spent six years actively involved with the Centre for Inclusive Education. She continues to investigate the way in which instructional technologies can meet the learning needs of all students.
Research Interests
the use of assistive technology by students with special learning needs
learners' self-beliefs and the self-esteem of individuals with learning disabilities
the use of universal design for learning and differentiated instruction to support the inclusion of students with exceptionalities in the general education classroom