Dr. Marie-Elaine Desmarais
Dr. Marie-Elaine Desmarais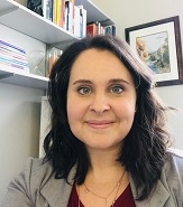 Assistant Professor
Marie-Élaine Desmarais has been an assistant professor at the Université de Saint-Boniface since August 2017. Her doctoral dissertation focused on the appropriation and implementation of Universal Design for Learning in a Quebec university context: better understanding the passage of a paradigm of normalization to a paradigm of denormalization. Her current research focuses on well-being at school and universal design for learning. She is a regular researcher and head of the Voices of Young People and Their Families team at the International Laboratory on Inclusive Education (LISIS). She is also a co-researcher in the research network on promoting research on well-being and success (RÉVERBÈRE).
Interests: Inclusive education, Universal Design for Learning, Well-being in school, Denormalisation
Marie-Élaine Desmarais, Ph. D.,
Professeure adjointe, Faculté d'éducation, Université de Saint-Boniface, Winnipeg, MB
Marie-Élaine Desmarais est professeure adjointe à l'Université de Saint-Boniface depuis août 2017. Sa thèse doctorale visait  L'appropriation et la mise en œuvre des principes de flexibilité de la pédagogie universelle en contexte universitaire québécois : mieux comprendre le passage d'un paradigme de normalisation à un paradigme de dénormalisation. Ses travaux actuels de recherche portent essentiellement sur le bien-être à l'école et la pédagogie universelle. Elle est chercheuse régulière et responsable de l'équipe La voix des jeunes et de leur famille au Laboratoire international sur l'inclusion scolaire (LISIS). Elle est également co-chercheuse au réseau de recherche et de valorisation de la recherche sur le bien-être et la réussite (RÉVERBÈRE).
 Intérêts:
Éducation inclusive, Pédagogie universelle, Bien-être à l'école, Dénormalisation