Dr. Jeffrey MacCormack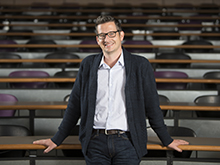 Dr. Jeffrey MacCormack is an assistant professor of Educational Psychology and Inclusion at the University of Lethbridge Faculty of Education. As a former classroom teacher, Dr. MacCormack's research on after-school programs, executive functions, social competence, and play-based learning is also informed by 10 years of experience teaching elementary students and many years of teaching post-secondary adult learners. His work has focused on creating spaces where youth can thrive. He also has an orange-tabby Persian kitten, who is a troublemaker.
Dr. MacCormack prefers the pronouns "he" and "him." You can contact him by email (jeffrey.maccormack@uleth.ca) or by phone (403-329-2433).
Research interests
play-based learning
social competence of youth with autism spectrum disorder
inclusive classroom practice and perception
perceptions of (dis)ability
collaborating with parents of students with special needs
Current Course Topics
Educational Psychology of Exceptional Learners
Research Methods
Behaviour and Emotion in the Classroom
Motivation